Sylvia Bridal Sampler BOW
04-17-2018, 08:43 PM
---
It would have been worse if you've bought the Nearly Insane book Macebaby
My Jane is in the assembling stage.........I didn't make the triangles, only a few and I still haven't decided if I will make the rest of them or not.
Please show us your Jane once you've started!
04-18-2018, 07:38 AM
Senior Member
Join Date: Nov 2011
Location: the middle of Michigan
Posts: 850
---
Teen, I love it! By limiting your fabrics you have made a lovely, cohesive quilt. The dark blue sashing is perfect. Your blocks have the diagonal components that keep the eye moving. I can't wait to see your finished quilt. I have about 70 blocks in a bin, they are my next UFO to be completed. It will be a great summer project to sew a block or two at a time. Boating will come first, though! Karen
04-18-2018, 08:23 AM
---
Aneal, I think the 365 day challenge was enough insanity for me. So far that has been the most challenging for a pieced quilt, but then it had a lot of 3" blocks that had no business being that small. And a lot of the 6" blocks were four 3" blocks put together.

I think the worst block was the 12 crowns. It has 120 pieces in a 6" block.

I decided on the DJ specifically for the amount of applique it's got. I want to get proficient at Teen's method
04-18-2018, 08:33 AM
---
It's a pity I finished the Jane blocks, otherwise I might have tried Teen's method.

I started a white/red Nearly Insane and after finishing about 30 blocks I decided I need another one with a yellow touch in every block so I started a second one. The blocks are 6" finished. The most insane one is the one with nearly 240 pieces........hahahaha.
04-18-2018, 09:26 AM
---
Actually, that "nearly insane" sounds right up my ally. Once in a great while I do something with pieces larger than 2.5" and they always seem so large. I was going to buy the wing clipper tool, but it's about 5" x 10" and I thought that was way too large to be handy since I'd mostly use it for pieces under 4" wide (long measure). Thought about getting it and cutting it in half.
04-18-2018, 10:03 AM
---
I've never heard of a wing clipper tool. I change between really small pieces like Nearly Insane and larger ones. I'm also working on the OMG (Oh My Gosh) quilt, also small pieces. Only 2 different blocks, so very boooooooooooring
That's why I need something else hahaha.
Here's the most insane block. Don't look too closely, most of the seams don't match but it's ok with me. Too small to bother!!!!! And once in the quilt.......
04-18-2018, 12:31 PM
---
I did a version of the OMG quilt. I used my left over ombre fabric and it worked really well to get a lot of color with a handful of fabrics.
My husband said it looked like I was sewing confeti - notice the pile under the machine.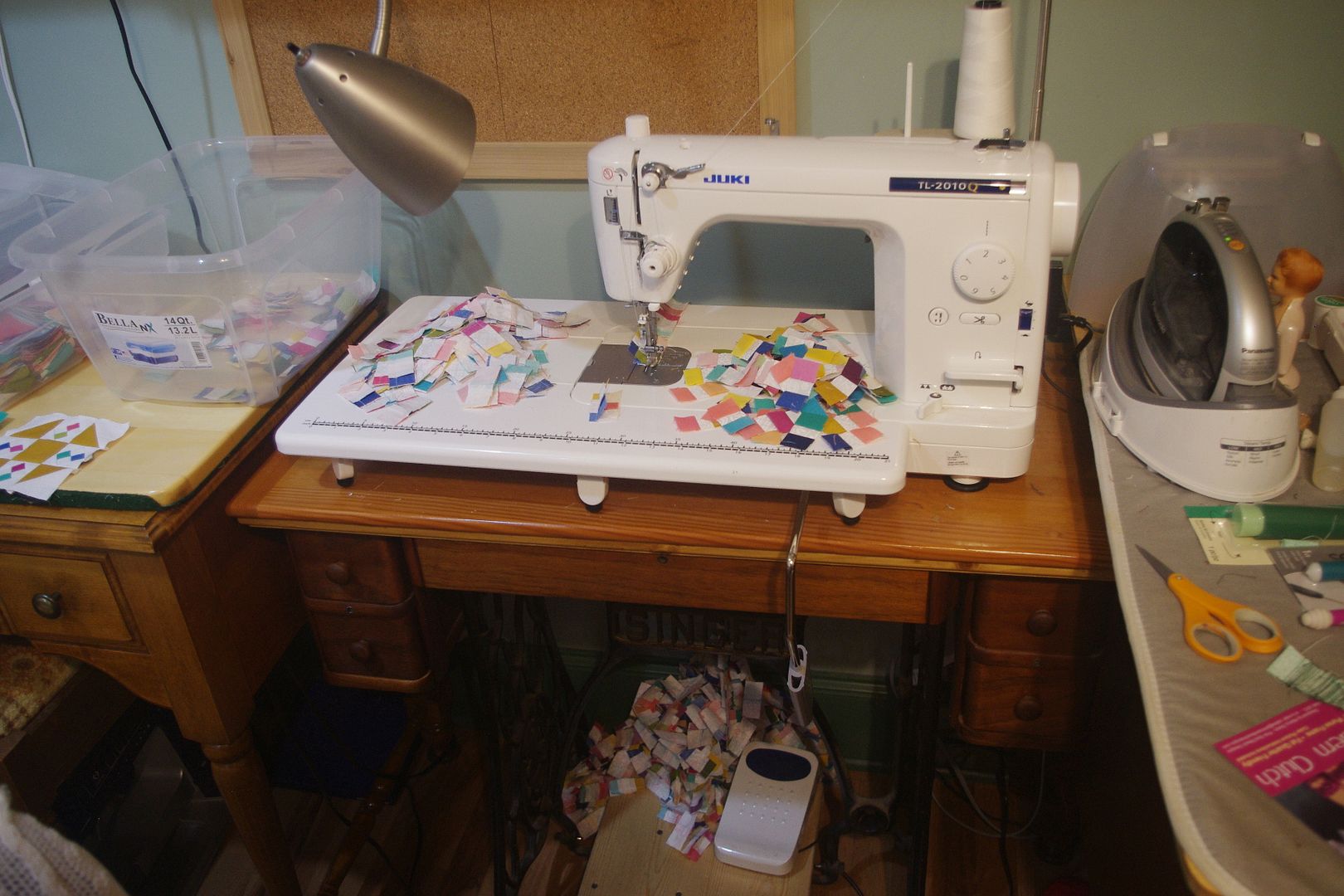 Shows my compulsiveness, I figured I needed 385 tiny 9 patches, so I made them all at the same time. I did some strip piecing to get the three block group which worked well with ombre, but did not use more than half WOF for them. I wanted lots of variety.
I think I did mine with 5" blocks.
I got sick of making them so did something large for the border.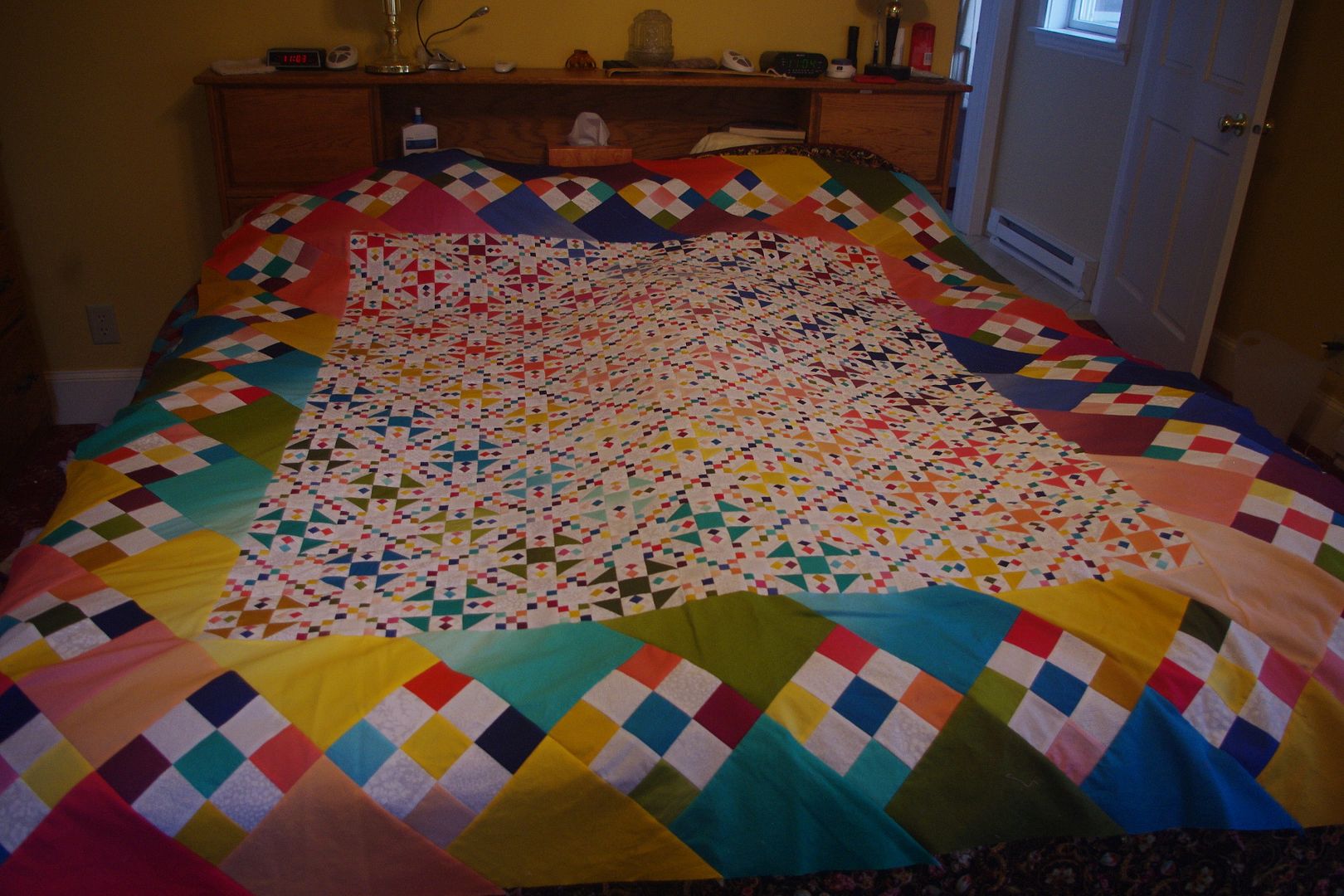 This is another too many pieces quilt. It is one of BH's designs.
---
Last edited by Macybaby; 04-18-2018 at

12:40 PM

.
04-18-2018, 12:47 PM
---
BTW Anael, you've convinced me I need to do the Nearly Insane Quilt. Maybe it's because I so love reds! And your red block is to die for!

This is why I work so hard to get a quilt done fast - because before I even start I've gotten excited about the next one!
Thread
Thread Starter
Forum
Replies
Last Post

Posting Rules
You may not post new threads
You may not post replies
You may not post attachments
You may not edit your posts
---
HTML code is On
---