2019/2020 2.5" Birthday Swap
03-28-2019, 09:06 AM
Super Member
Join Date: Jul 2013
Location: South Dakota
Posts: 7,060
---
I like the scrappy with the outer block controlled. however you could also do a more controlled look to get more definiton to the chains.
this is a quilt using 1.5" blocks - and it was controlled in that the blocks were sorted to Light/Dark/Red/yellow
so if you sorted yours and put the inner block as the darkest and then worked out to light with a solid as the outer block - that would be very interesting too.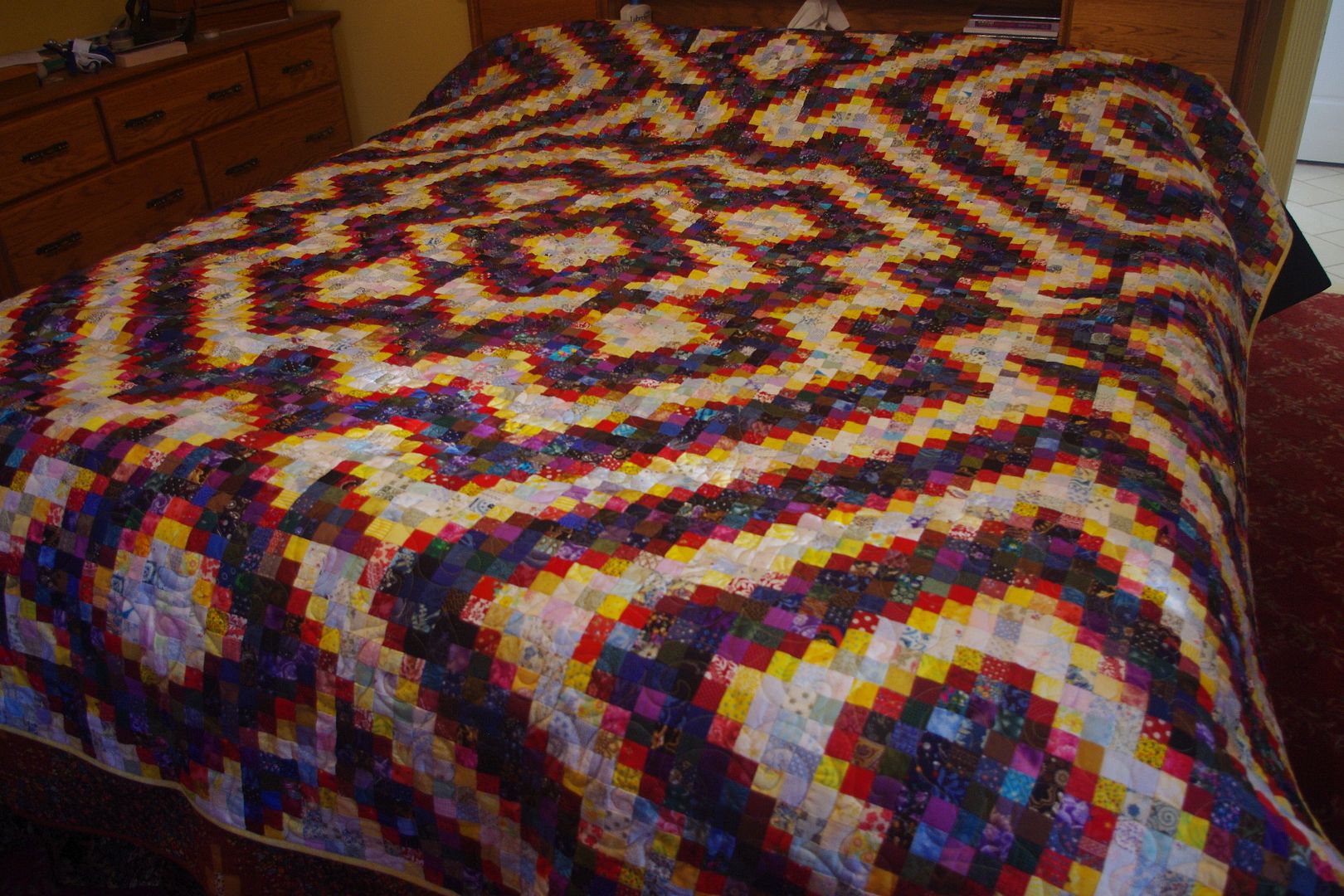 03-28-2019, 02:19 PM
Super Member
Join Date: Jan 2016
Location: West Bend, WI
Posts: 2,227
---
And the latest list:
Jenner8r 3/23
Queenbarbie 3/25
Oldcatlady 3/25
JaniceMcC 3/25
MizMelly 3/25
Patricksmom 3/25
Gaijin 3/25
Hav4 3/25
CrazyConnie 3/25
Sunrise 3/26
Carolyn from Venice FL 3/27
Juststitchin 3/27
Cheesehead 3/28
PattyJo 3/28
Pinkflowers 3/28
Gram E 3/28
Thank you for all the mailbox envelopes

03-29-2019, 04:17 AM
Super Member
Join Date: Jan 2016
Location: West Bend, WI
Posts: 2,227
---
Good morning, all,
All feedback for the candies already received should be posted by now. If you do not see something from me Please let me know and I'll try again

There are two, however, I couldn't find: The first was PattiJo?
The second one is someone who I don't have their screen name. So Carolyn from Venice, FL, if you could let me know who you are, I'll mark as received and then go give you positive feedback

Working until 2:30 today and then up to the cottage we go. Sewing time. Whoot! Whoot!
03-29-2019, 06:00 AM
Super Member
Join Date: Mar 2009
Location: OFallon, MO
Posts: 2,282
---
The board has been so quiet. This weekend is supposed to be all thunder storms and wet weather so I am staying in and sewing.(yeah!) I finally ordered the large pineapple template along with the book. It's supposed to be here today and I'm so excited! I have wanted one of these for the longest time.
Here is my updated list.

1- Armylady 3/21
2 Hav4Boys 3/21
3 Carolyn Robinette (don't have screen name) 3/25
4 Patricks Mom 3/25
5 Janice McC 3/25
6 MizMelly 3/25
7 Queen barbie 3/25
8 JENNR8R 3/25
9 oldcatlady 3/25
10 Gaijin 3/25
11 Juststitchin 3/26
12 Pamelaory 3/26
13 carzyconnie 3/27
14 jaba 3/28
15 Pink Flowers 3/28

I was going to wait to open on my birthday but I changed my mind and will start to open this weekend. Will also start on feedback.
03-29-2019, 06:27 AM
Senior Member
Join Date: Dec 2017
Location: SW Michigan
Posts: 335
---
My cards went out yesterday! I taped around the edges, so thanks for that tip. I hate to think of those fabrics getting free before they arrive at the Birthday house!

Just closed my eyes and hit the buy button on a ruler and a ruler foot for my sewing machine. I've been eyeing it and mulling it over for about a year. I hope it turns out to be a good investment and fun.
03-29-2019, 02:12 PM
Super Member
Join Date: Jun 2010
Location: SW Minnesota
Posts: 1,100
---
Barbarakibler23, good luck with your move. Fun, but a lot of work! Hopefully your snow is melting there and everything is not a mud mess while you have to move. I think your state and my state were both part of the huge storm a few weeks back, and now we are flooding in my area from all the snow melting. I am not complaining, though, cause our flooding is minor compared to Nebraska and some other states south and west of Minnesota.. I feel so much empathy for them all. Have a good weekend and hopefully you don't get too stressed about all that you have gong on in the next few days.
Thread
Thread Starter
Forum
Replies
Last Post
QuiltingBoard Challenges & Contests
Member Swaps and Round/Row Robins
Member Swaps and Round/Row Robins
Member Swaps and Round/Row Robins
General Chit-Chat (non-quilting talk)

Posting Rules
You may not post new threads
You may not post replies
You may not post attachments
You may not edit your posts
---
HTML code is On
---