Signups for the 12th Annual Ornament Swap Closes midnight October 31
11-22-2022, 10:40 AM
---
I have an aunt and uncle from Alabama who went twice to Australia. It was a place they always wanted to go. They went the first time after my aunt was recovering from cancer.

My hubby found those icicles like long ago on Amazon I think for $7 dollars a pack.

I am glad to hear of all your packages coming in.

I am planning to make my daughter in law some pot holders today. We are going to her and my son's house for Thanksgiving. I always make her some a little bigger, and she likes those. Her kitchen is a pretty soft blue so I make them to go with that.

It will be fun seeing everyone's ornaments. After Thanksgiving we will put our tree up.

Oh I love the Christmas songs.
Susan
---
Last edited by JuneBillie; 11-22-2022 at

10:43 AM

.
11-26-2022, 05:29 AM
---
I received mine but looks like the one I sent still hasn't arrived. I hate to open with others missing out on the fun. Think I'll hold off until others start posting pictures here. I'm working today, so tomorrow is probably better for me anyway. Fingers crossed that everyone gets their packages today!
11-26-2022, 06:44 PM
Super Member
Join Date: Feb 2011
Location: Utah
Posts: 1,299
---
Hi Everyone! I hope you've been having a lovely Holiday with Thanksgiving! I feel blest in many ways. I'm grateful to have quilting friends who I've been able to swap with over the years. You've enriched my life.
I was so excited for opening day that I went ahead & opened my gift. I guess I'll be the first to show. I have a really busy week ahead so hopefully you're okay I'm posting today. I received two beautiful ornaments! The bell is hand embroidered & I love it! So pretty!
I also got a candy cane Rudolph. So festive! I haven't put up my tree yet, but I'm excited to start the Christmas holiday season now! Thanks MizMelly for my beautiful ornament! Thanks for the 2 fat quarters & candies! I feel spoiled! 😃 🎅
[img]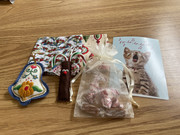 [/img]

Posting Rules
You may not post new threads
You may not post replies
You may not post attachments
You may not edit your posts
---
HTML code is On
---