Any idea what machine fits this cabinet?
07-07-2012, 05:56 PM
Super Member
Join Date: Feb 2012
Posts: 8,092
Any idea what machine fits this cabinet?
---
We picked up this sewing cabinet at a local GW a month or so ago. None of our machines have a hole or a bolt that would match up with the hole in the machine base on this cabinet. Here is some pics for your inspection.
Top with leaf open. The four red caps indicate where the feet of the machine were. You can see the off center hole and the stain around where the machine used to sit.
Top with leaf.
Top with machine base folded down. You can see the home made shelf the previous owner put in there.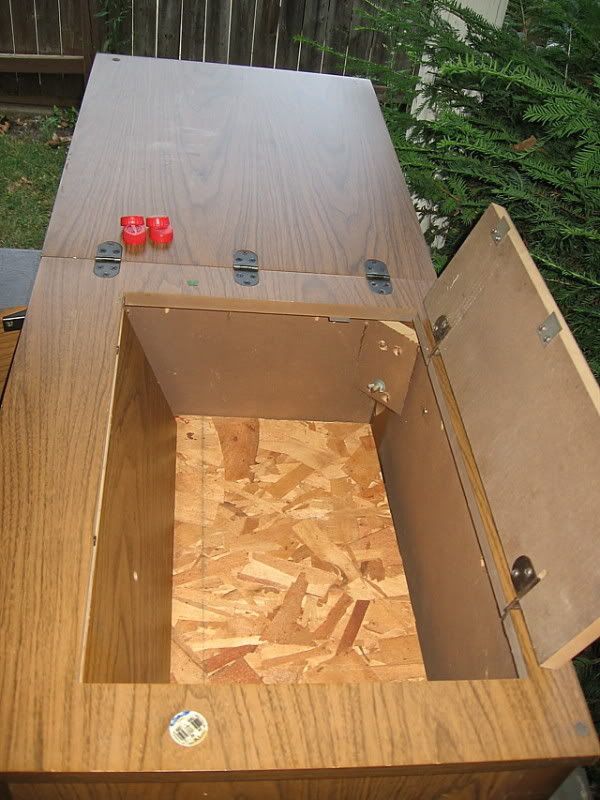 Here is a view of the inside of the front door.
We've looked at all our machines and not one has a hole to bolt it to this type of cabinet.
Joe
07-07-2012, 11:55 PM
Senior Member
Join Date: May 2012
Posts: 911
---
All this brings back memories, Thinking in the 70's some one ( young couple ) the new purchase, >> Big $$$ it was a cabinet like that ,,,

It was cool because you could put every thing inside.

But A Drag because your still using a portable sm, you can't just slide the fabric to the needle

The one I got today is about the same era.. ,, and the 70's photo finish, The phony black Dots, to make it look antique..
07-09-2012, 02:02 PM
Member
Join Date: Jan 2010
Location: where FREE SPEECH still reigns
Posts: 29
---
This cabinet is made by Parsons. I got a similar (larger with drawers) with my New Home 6000 in 1984. I only have one little dink in the cabinet after all of these years. My Janome Horizon 7700 will be able to move in as soon as I earn another $300.00 to pay off the layaway. The "gold" ruler on the cabinet was a great idea and I still use it. Hope that helps you in your quest for identity of the cabinet.
07-09-2012, 03:08 PM
Senior Member
Join Date: Apr 2012
Location: Illinois...near St. Louis
Posts: 392
---
I think that's a Kenmore cabinet for a free arm machine. I have an Ultra-Stitch 12 that would bolt on there but I've got mine sitting on a shelf in a very old cabinet so my sewing surface is flush with the top of the cabinet.

I'm thinking it's Kenmore too because I have a cabinet for a flat bed Kenmore that has the same front door.
Thread
Thread Starter
Forum
Replies
Last Post
For Vintage & Antique Machine Enthusiasts
For Vintage & Antique Machine Enthusiasts
For Vintage & Antique Machine Enthusiasts

Posting Rules
You may not post new threads
You may not post replies
You may not post attachments
You may not edit your posts
---
HTML code is Off
---