What is this?
05-01-2016, 03:57 AM
Super Member
Join Date: Mar 2016
Posts: 2,554
What is this?
---
I 've been studying old machines on the internet for a few weeks, in my quest to learn about them. I found this on the local Craig's list this morning. I think it says it's a Sanger sewing machine. I'm not sure about that as you can see from the photos. However, we had a Sanger Brothers department store here back in the olden days. Of course, it's advertised as a Singer. I've never seen the "doohickeys" on the top before. What is that? Do they do anything? The photos are not very good, but hopefully someone can tell me about it. It's a treadle if you can't tell.
bkay
05-01-2016, 11:53 AM
---
Nice machine. I'm leaning towards National as the maker to, but I'm no expert on their machines so don't quote me

That it's a badged machine for the Sanger department store is very, very likely even if it's not a National. Does it have the shuttle? That would make identifying the manufacturer easier.
05-01-2016, 12:09 PM
---
Here is a quiz - see if you can figure it out.
1. New Home style top tension (before Free aquired the name) Some do not have the lever part
2. Standard, again, many may be missing the lever. Note the rounded end.
3. National (and Eldredge) Foley & Williams is very similar.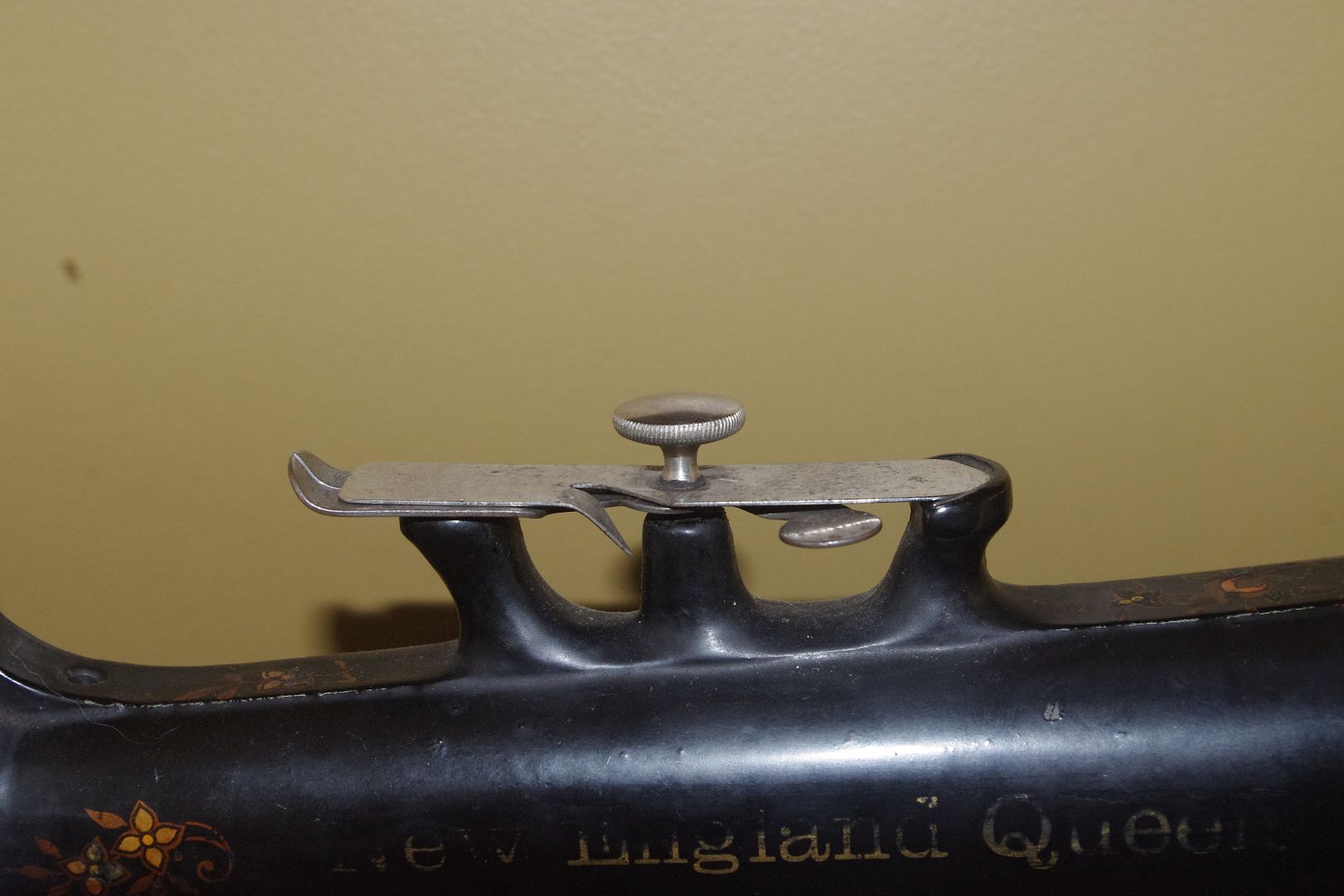 4. New Royal (made by Free, but a quite different machine)
So far, I've not encountered anything that suggests Singer ever made a top tension machine, and until later models, Singer did not put names other than "Singer" on their machines.
---
Last edited by Macybaby; 05-01-2016 at

12:11 PM

.
05-01-2016, 12:16 PM
---
As to what it does - it is the tension control for the upper thread, so it is required to be able to sew.

Most of them have a means to disengage the tension, that is what the "lever" does. So you'd push it down to pull your sewing away from the needle.
05-02-2016, 04:11 AM
Super Member
Join Date: Feb 2014
Location: Davenport, Iowa
Posts: 3,347
---
I read a blog by Bonnie Hunter this morning, she had visited an antique mall on one of her trips. Included with pictures of quilts was one of these machines....wish I could remember where she was at the time. Until viewing her photo I had never seen one of these machines before.
05-02-2016, 11:46 AM
---

Posting Rules
You may not post new threads
You may not post replies
You may not post attachments
You may not edit your posts
---
HTML code is Off
---