Fabric help....please
07-24-2008, 10:54 AM
---
I need to get working on a new quilt block to make into a table topper by Saturday. Since I'm very new to quilting my stash is very....well....lacking. I'm not going to chance using the yellow again so I want to use another material. Is it ok to use Muslin on the top of a quilt? I don't really care for how it looks, but it is the only light color material I have that might work.

Thanks for your thoughts!

Hugs!
07-24-2008, 11:49 AM
---
I think muslin will be fine too - could you buy just a fat quarter? If I'm reading this right - you need just a small bit of yellow or light color? If you don't want to 'chance' the muslin - what about a yellow fat quarter? Just a thought.
07-24-2008, 12:09 PM
---
Thanks Ladies,
I have tea-dyed muslin here, so I just used that.....
I'm not sure what I think. The yellow is a scrap from another project (I did iron it to make sure there were no problems!), but I only have enough for the center and not the entire border.
Thoughts on the muslin....if won't hurt my feelings if you don't like it.
Thanks!
Hugs
This is what the original sqare looked like with the yellow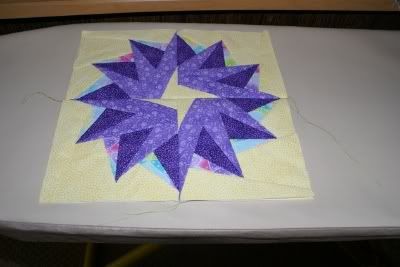 (if you didn't read my post about "Has this happened to you", you can find out there why I can't use this square.
07-24-2008, 12:25 PM
---
I think it looks great Kelly :thumbup: , although your muslin is a bit darker than your original fabric, the brighter yellow in the center balances it. I luv a purple yellow combo :P You,ve really got that foundation piecing mastered. Tell your Mum, it's not cheating, it's just another technique to choose from, more choice is always a good thing :wink:
07-24-2008, 10:01 PM
---
ShellyQ....so sorry about the yellow... :( ...as for the new block...I noticed that you used the light yellow for the center and outer part...can you use the gold color for the outer part??? I think the color of the muslin will be okay but like the gold better...just my thought :D


OPPS just read about not having enough gold.....booooo.... :( wish I could give you some fabric to help.....Well girl go with the muslin..... :roll:
Thread
Thread Starter
Forum
Replies
Last Post
General Chit-Chat (non-quilting talk)
General Chit-Chat (non-quilting talk)

Posting Rules
You may not post new threads
You may not post replies
You may not post attachments
You may not edit your posts
---
HTML code is On
---