Fat Quarter Storage-how do you do it?
10-24-2013, 02:53 PM
Fat Quarter Storage-how do you do it?
---
I am setting up my new sewing studio and it has been a surprise to find out how much fabric I really have. It has been in bins, plied on top of one another so if I needed something it was impossible to find. So the answer, of course, was to go and get more! Now I have the space to arrange it in a cupboard. My DH set up 2 Ikea cabinets- 7 feet wide and floor to ceiling, I thought 20 shelves was more than enough space- wrong. It is full of fabric yardage, arranged by color. The problem I have now is my fat quarters. I had planned to put them on 3 or 4 shelves, but the shelves are all used by yardage. I have 4 large bins of fat quarters that need a storage spot.
My question to you all is- how do you store your fat quarters? I would like to have them accessible as the bin storage was difficult at best.
Then there is the issue of batting storage. My big roll of W&N will live under the cutting table, but what do you do with the other pieces?
Thanks for the input everyone.
10-24-2013, 03:29 PM
Super Member
Join Date: Sep 2011
Location: Southern Indiana
Posts: 5,046
---
I have something I bought at Lowe's. Its not really wood, but looks like it, has 20 pidgeon holes, deep enough to have 2 stacks of FQ. Its pretty big, if you bought 2, would probably hold what you have. It was less than $30.00 I think they had them in white also>
10-24-2013, 03:57 PM
Power Poster
Join Date: Apr 2011
Location: Ontario, Canada
Posts: 17,455
---
I keep my FQs with my yardages, so I can see the colours all together.
So maybe just go back to Ikea and get a 3rd shelving unit, so you can have all your cabinetry to match, and have full flexibility.

Some use CD storage shelving for FQs.
I've often seen it done that way in LQS' as well.
10-24-2013, 07:09 PM
Junior Member
Join Date: Feb 2013
Location: Spanish Fort, AL (on the AL Gulf Coast)
Posts: 236
---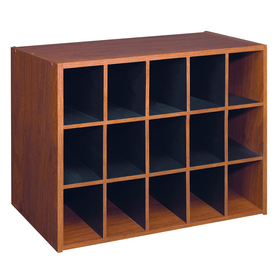 This is an example of what I use to store fat quarters. You can get them at Lowe's Home Improvement stores for about $30. They're pretty heavy, so get someone to help you if you have problems carrying heavy items. Good luck with your space!

10-24-2013, 08:05 PM
Junior Member
Join Date: Nov 2011
Posts: 125
---
I have an eight drawer dresser. The drawers are just right to stand the folded fat quarters on end. I have my fat quarters sorted by color. Need a color, find the drawer and all are there. And I have the top of the dresser for a ironing surface.
10-25-2013, 04:53 AM
Fat Quarter Storage
---
I use plastic baskets to store my FQs. Currently I have 4 baskets labeled: solid, blender, print & novelty. I have saved cardboard squares that will fit the baskets. The same size that some FQs are sold with. The FQs that are bought off the bolt are wrapped on a square. I stand them up in the baskets so the each one is visible. This is the cheap way to go. I have seen a cabinet that is made to do the same thing. Like a filing cabinet or an old-fashioned card catalog. Within each basket, I have sorted the colors keeping like colors together such as different shades of purple or pink. You can flip through them easily when you need to find that certain color.
Thread
Thread Starter
Forum
Replies
Last Post

Posting Rules
You may not post new threads
You may not post replies
You may not post attachments
You may not edit your posts
---
HTML code is Off
---