*gulp* does anyone have this sewing table?
02-01-2008, 03:50 PM
Senior Member
Join Date: Oct 2007
Location: NW Ohio
Posts: 616
---
i probably should have asked before i ordered it, but i just did. it's supposed to be here 2/7. it got pretty good reviews from customers and i couldn't turn it down for the price and cheap shipping.
anyone have one?
http://www.sewingtableshop.com/sewin...eriestable.cfm
02-01-2008, 08:20 PM
Super Member
Join Date: Jan 2007
Location: western Pa.
Posts: 2,221
---
My freind bought one last year at AQS show. She loves it! However she paid alot more for it. She thought it would be great for traveling.
I think I want one. I guess you get it fit to your machine. I know she has a Bernina.

Donna
02-07-2008, 03:48 PM
Member
Join Date: Feb 2008
Posts: 1
---
Hi, I was taking a quilting class at "The Gathering" in Nashua N.H. last November and 4 of the women in one of my classes came in with this table. I believe they also paid more than the $99.00 listed but they all loved it, didn't seem to mind carrying it around and setting it up for whatever classes they were taking. I think they said each table is set up for your particular machine (how the machine sits in each table) I could be mistaken though. Enjoy, I'm thinking about maybe getting one too. Molly 39
02-08-2008, 12:21 AM
Senior Member
Join Date: Oct 2007
Location: NW Ohio
Posts: 616
---
the table arrived a day early (on the 6th, i had ordered it on the 1st, i believe).
it's a really nice table. i have it set up in the dining room by the window. my machine fits in it pretty well. it's the same height as our dining room table (the height of the actual table platform is not adjustable). there is no assembly. just take it out of the box and lock the legs. very portable, too.
with the ability to nest the machine, it makes it the perfect height now. there's a chain underneath that you use to adjust the depth of the 'nest' and i was able to get it perfectly flush with my needle plate. i thought the gap around the machine would bother me, but it really hasn't (i worked on a project most of the day yesterday).
it's definitely worth the $109 (if it's still on sale, includes $10 shipping). i got an e-mail that if i referred anyone, they get some kind of a discount. PM me if you're interested, it says it's a $10 discount.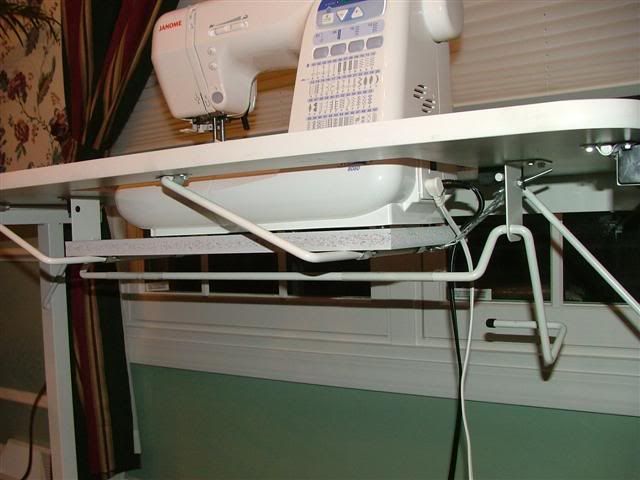 Thread
Thread Starter
Forum
Replies
Last Post
General Chit-Chat (non-quilting talk)

Posting Rules
You may not post new threads
You may not post replies
You may not post attachments
You may not edit your posts
---
HTML code is On
---