Jen Kingwell blocks and finished quilts
01-14-2019, 10:30 PM
---
Wow, beautiful birdies!! I was wondering how you did it without machine but you still have one available

Makes me want to start mine..........NOOOOOOOO I can't!!!!!
Sewing, glad you found your favorite thimble!
01-15-2019, 09:08 AM
---
Thank you, Anael!

The Flutterby quilt from the book is cool looking but that is not on my list...yet...lol.. After Happy Birds, I'm going to probably work on a non-Kingwell pattern, a baby quilt, and a QOV. Then maybe GW.
---
Last edited by Teen; 01-15-2019 at

09:18 AM

.
01-17-2019, 09:38 AM
---
I really like the Kingwell patterns. But, I doubt my ability to make the blocks come out the right size with templates. I really like when the patterns give the finished block sizes. I have the book to make the Happy Flower Quilt and the book to make Splendid I quilt blocks. I think both of them have blocks that you use templates. I think I will practice with them before purchasing any Kingwell patterns.
This is what I'm working on right now. A Valentine Wall Hanging. The pattern is out of the book I Love Churn Dashes. (Martingale Publication) The pattern is called, Little Boy Blue by Tonya Alexander. It still needs one more final round Churn Dash. And, then it will be ready to quilt.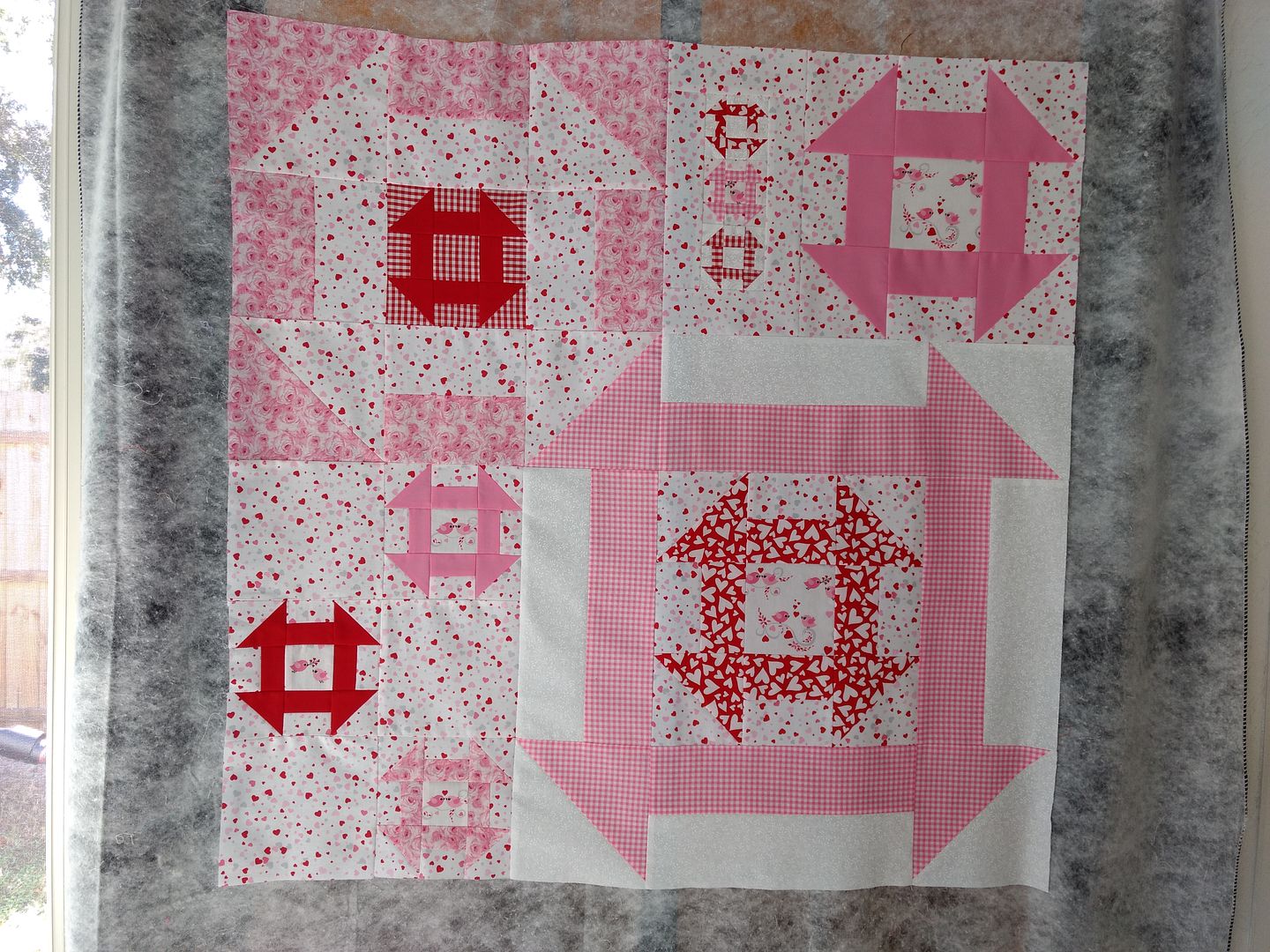 And, I have a table topper all ready and layered to quilt using knock off Wonderland Fabrics. I love Rabbits. I found a free pattern on Pinterest making a lap quilt. Am thinking of doing that with my Wonderland Fabrics as well.
01-17-2019, 09:53 AM
---
Beautiful Judith, both topper and wall hanging!!

I agree with you, I find the Kingwell patterns rather confusing. Besides, you need to sew a scant 1/4" seam otherwise all blocks will come out too small.
I made my own templates for some of the blocks. For Bakers Dozen I purchased them. They're expensive though as are her patterns!
You could try Tempters, do you know those? Templates to make just one block and with that one block you can make whatever you want.
01-17-2019, 02:05 PM
Power Poster
Join Date: Jul 2009
Location: Between the dashes of a tombstone
Posts: 12,716
---
I wonder...Judith your valentine quilt got me thinking...

okay I have 27 yards of solid fabrics in 1/4 yard increments...that's 108 different cuts...(don't ask!). I have 3 1/3 yards of this gray and white fabric. I would like to make a graphic style quilt with the solids using the gray/white as background fabric. The solids range from light pastels to deeper colors...not too many primary hues. I'm thinking 60 x 75-80" I've toyed with HST's making large flying geese or star patterns. I'm thinking using a at the most 10 of the solid fabrics. Any ideas for this quilt or any additional use of the solids? [ATTACH=CONFIG]606920[/ATTACH]
Thread
Thread Starter
Forum
Replies
Last Post

Posting Rules
You may not post new threads
You may not post replies
You may not post attachments
You may not edit your posts
---
HTML code is Off
---