HOTHER clater thread update
10-17-2012, 09:42 AM
Super Member
Join Date: Feb 2012
Posts: 8,091
HOTHER clater thread update
---
In my thread: Little Genie Magic Bobbin Washers, and what to do about a rattling bobbin case
{
http://www.quiltingboard.com/vintage...e-t203310.html
}
I mentioned my HOTHER clone machine clattered like crazy when I sewed with it and the harder or faster I pushed it the more noise it made. It was actually ruining my concentration when sewing.
I posted the thread above and got a few suggestions. I decided to try some things I was thinking of as well as the shim and grease.
The first thing I found was the two locating pegs sticking out of the Hook Retainer were loose. This was allowing the Retainer to move back and forth as the Hook oscillated.
I took the pegs out and looked them over carefully. I was contemplating smacking them with a punch and hammer to deform them enough to fit tighter when I noticed someone else had already done so. I cleaned everything up and started putting the pegs back in and they didn't fit the same. They were tighter from one side than the other. So I put the pegs in so they fit tight, put the Hook Retainer back in making sure the pegs went into the holes in the housing: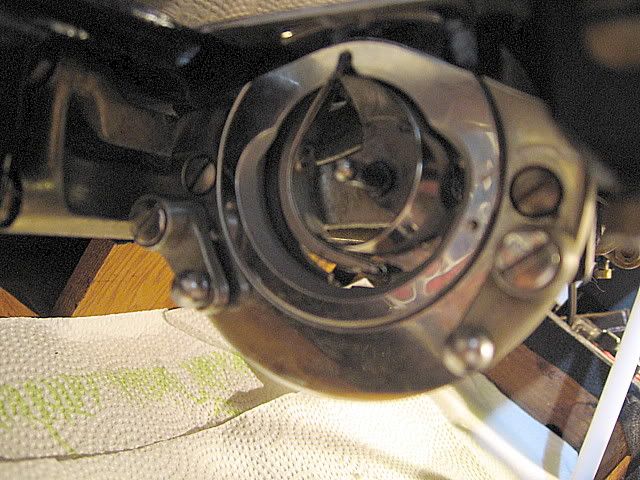 Then tapped the Retainer home with a plastic hammer. This located the pegs for depth.
After that I removed the Retainer, and used some
Permatex
Penetrating Grade Thread Locker Green for pre assembled parts on it to help keep them where they belong.
Then I reassembled the bobbin hook and parts and put the bobbin back in. Threaded it up and then tried it. Much, much, quieter. The Hook Retainer moving back and forth was the cause of most of the noise.
The next thing I did was hunt down a thin plastic food container lid and cut out a shim. I tried to make it the same size or a wee bit bigger than the bobbin, but it came out just a bit smaller. No problem though. I used an old paper hole punch to make the hole in the middle. It was the perfect size.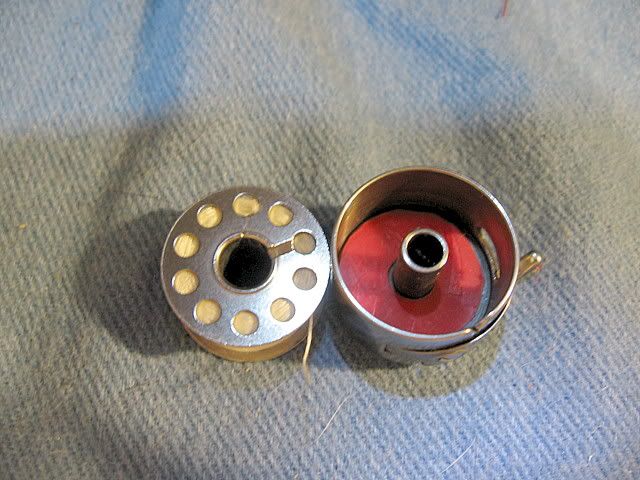 I put that in the machine and sewed some more. A bit less noisy but not significantly so.
Then I took the shim out and put some Tri-Flow grease on the peg like Candace mentioned.
And sewed some more. There didn't seem to be any noticeable noise reduction with the grease, and it made a mess in the bobbin hook. The insides of the hook were splattered with grease and the bobbin was covered with it. Not enough noise reduction to be worth the grease I wasted.
While I was sewing with the grease my bobbin ran out. So after cleaning the grease out of the hook I put in the shim and a full bobbin.
That is when I noticed the new full bobbin was slightly wider or thicker than the other bobbin. At first I even had a bit of trouble getting the case threaded. The thicker bobbin rim in addition to the shim was kind of in the way. But I got it threaded and in the machine and started sewing again.
After this experiment here are my thoughts:
>If the bobbin Hook assembly is in proper working order; in other words things that are not supposed to move don't, and things that are supposed to move do,
and
you are using the proper bobbins you
shouldn't
need the shims.
>I haven't measured them, but there seems to be a lot of variation in the height of bobbins. The thinner ones have more room to move about and might be one source of noise. My ears cannot hear high pitch sounds so unless the noises are really bad or within a sound range I can hear I won't notice them. As I continue to sew with the HOTHER I'll pay more attention to what bobbins I'm using, how they fit, and if there is any noise from them.
Not all 15 Clones are set up like the HOTHER, but if yours is and it's noisy, check the pegs in the Hook Retainer. They might be loose.
Joe
10-17-2012, 10:13 AM
Super Member
Join Date: Feb 2012
Posts: 8,091
---
Candace,
I really don't know how much I grease I put in there. But most likely it was too much. As for the bobbins, I have them from the original turned out on a lathe ones to the modern ones. And many between. I'm going to go through them and find maybe a dozen that fit the best and then relegate them to the HOTHER.

Caroline,
Yeah, sometimes I get anal about things. But the clattering that machine was making could be heard clear across the basement and it even interrupted my wife's cutting. Not to mention it sounded like it was about the throw a rod. So I had to do something to fix it.

Joe
10-19-2012, 09:58 AM
---
on my kenmore if I happen to get a squatter bobbin by mistake it hits the top of the cover that goes over the bobbin area and makes a really irritating noise. like click, click everytime the bobbin goes around...don't know how those bobbins got in with the rest....
10-19-2012, 11:05 AM
Super Member
Join Date: Feb 2012
Posts: 8,091
---
Linda,

I have also seen Class 15 metal bobbins that wobble so bad I can't fill them on the machines winder. If we try to fill them with our Sidewinder then use them they make a lot of noise. The newer Chinese made bobbins that JoAnns sells are JUNK. Check yours and if they wobble toss 'em.
Those Sew-Classic sells are really nice.

Joe
10-20-2012, 06:15 AM
---
Joe, I always love your solutions! The area for my bobbin on the noisy 15-91 moves around a little, making it rattle. I'm going to check the pegs and see if they are loose! Then I'll dig through that tin chicken pot pie container full of bobbins that my aunt gave me and find the good ones!
10-20-2012, 10:05 AM
Super Member
Join Date: Feb 2012
Posts: 8,091
---
Lyncat,

The Singer 15-91s are different from my HOTHER. I don't know if they have pegs or not. Their bobbin hook assemblies are held in by a Y shaped affair that's held in place by a screw. I'm not sure what it will take to snug things up.

Joe
10-20-2012, 04:03 PM
---
If they are like mine, they are Night Walkers. There outta be a sci-fi show about it.
10-20-2012, 09:53 PM
Super Member
Join Date: Feb 2012
Posts: 8,091
---
A video monitor will likely show a small four footed furry critter playing with them then putting the back in the wrong place.
I have cats ...... I should know this
Joe
Thread
Thread Starter
Forum
Replies
Last Post
For Vintage & Antique Machine Enthusiasts

Posting Rules
You may not post new threads
You may not post replies
You may not post attachments
You may not edit your posts
---
HTML code is Off
---