Store bought binding...good or bad?
05-05-2007, 08:22 PM
---
I'm making a denim/blue jeans quilt for a friend of mine who's 21st birthday is coming up. I'm almost half-way done with the quilt top (looking great so far! Yay!). I'm not having any real problems with the quilt...yet.

Right now I have everything for the quilt (I seem to get everything for the quilt top and then gradually buy the things for the rest of the quilt). Except something to bind the quilt. My dilemma is: I have no clue how to "correctly" make binding from fabric and denim costs 5 dollars a yard. Expensive fabric and lack of skill don't go well together. Plus, my friend's birthday is on the 25th so I don't have a lot of time to get this quilt done.

I was thinking about using store bought quilt binding, but I'm not quite sure if I should. On one hand, it'll make things easier and I can get the quilt done in time, wheras if I make my own binding it adds more time and I sort of lack the quilt binding making skills. On the other hand, I don't know how well this store bought binding holds up to the typical wear and tear. Please enlighten me.
05-05-2007, 09:29 PM
---
I haven't had any problems with the store-bought bindings. The double-fold wears well. The colors and patterns to choose from are limited, so there are times when making your own binding is the only way to go to get just the look you're after. It might be kinda hard to bind a quilt with denim anyway, so if the packaged binding matches, go for it! I'm sure your friend will love the quilt--Post a picture for us!
05-06-2007, 08:35 AM
---
I agree with Leslee. The binding you find pre-packaged is fine. Nowadays you have some more interesting possibilities as quilting has made fabric options expand greatly. You can co-ordinate it with your decorative stitching colors or even join complimentary colors to create a colorful edging on the quilt. Please let us see when done. Hey BTW....how is your map quilt coming along?
05-06-2007, 10:24 AM
---
here's a couple of ways to make a binding that don't require bias, will work great with any fabric you have already on hand, and don't require a Master's Degree. (Unless your're going around curves, in which case bias is the best.)

URL: http://www.hgtv.com/hgtv/cr_quilting_tips/article/0,1789,HGTV_3307_4173454,00.html

here's another one. sometimes i find it easy to do this way. sometimes i turn the air blue in the process.

URL: http://www.hgtv.com/hgtv/shows_qlt/article/0,1805,HGTV_3876_3178320,00.html
05-06-2007, 05:00 PM
---
So if I buy some pre-packaged binding at Wal-Mart (I think the brand they carry is Wrights) I shouldn't have to worry about it wearing and tearing?

I got the top half-way finished (I've been trying to get at least two rows done a night). Here's what it looks like.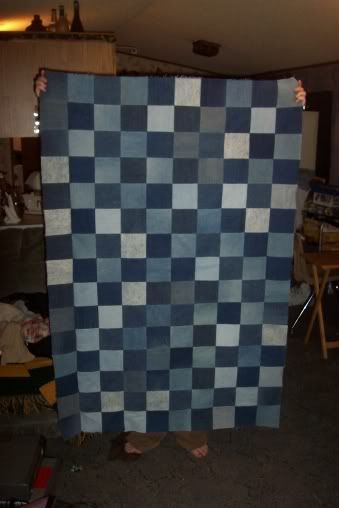 Sandra: Haven't worked on the map quilt yet. The planning kind of wore my brain out...trying to figure out what would be a good size for each block without getting it too big, playing the game to get the map pieces so I could start making applique patterns...I kind of got sick of it. But I'll eventually get back around to it and make a wonderful quilt.

Speaking of wonderful quilts, the first quilt I made (the black, white, and red baby quilt) should be put into use very soon. My very pregnat friend is almost a week past her due date so if she doesn't have her son by this week (which is sounds like she's getting there since they said she was a cm dialated when she went to the hospital after going to see Spiderman 3) they're going to induce her. I can't wait! :D
05-06-2007, 06:55 PM
Super Member
Join Date: Nov 2006
Location: Central PA
Posts: 1,713
---
I wouldn't use the store binding because I don't think it is wide enough to cover denim, batting and the backing. Additionally, I think it is too thin and won't wear well.

If you want to match the blue color, choose a denim chambray of a similar color. I would cut it on the straight grain and make it double. Obviously, this will be a working quilt and will get a lot of wear.

Another choice would be to make a scrappy binding, using several colors and prints that you may have on hand. A blue or red check would make an interesting binding.

Suzanne
05-07-2007, 03:43 AM
---
I have done it both wyas. store bought and home made. It depends on time, resources, and colors available. Go with the prepackaged. If it doesn't last, get her to bring it back in a few years and replace the binding. There is a fairly wide binding that Wal Mart carries or use to carry--wider than bias tape and maybe you can find it. I don't use bias as a rule, usually tear strips of fabric--to get it on the straight of grain--use 2 inch strips doubled with wrong sides together. I do piece my strips on the bias since the seam is less noticable that way.Sew the binding to the back side of the quilt and that way when you flip it over to the right side you will have a nice folded edge and you can hand stitch it to the front. Good luck!
Thread
Thread Starter
Forum
Replies
Last Post

Posting Rules
You may not post new threads
You may not post replies
You may not post attachments
You may not edit your posts
---
HTML code is On
---