3/4 Greyhound New Home Model 30 Vibrating Shuttle Sewing Machine
02-18-2012, 10:05 AM
Junior Member
Join Date: May 2011
Location: New England
Posts: 169
3/4 Greyhound New Home Model 30 Vibrating Shuttle Sewing Machine
---
Hi,

Does anyone know anything about this Portable 3/4 machine? It's from the early 30s - 40s.
I picked one up recently, and am hoping to learn more about it.

It doesn't have the model # on the machine itself.

Thanks very much,
Jae
02-18-2012, 10:42 AM
Super Member
Join Date: Feb 2012
Posts: 8,091
---
Jae,

Yep, I'm familiar with the model, I have one. Cute little critter. Mine sews up a storm.

A couple things though; they use 20x1 size needles and the bobbin is longer than a standard Singer Mdl 27 or 28 size. I've only got 4 for my machine and haven't found any more yet.

Joe
02-18-2012, 11:15 AM
Junior Member
Join Date: May 2011
Location: New England
Posts: 169
---
You are lucky, Joe

Mine was w the machine and case, nothing more. Quite filthy, but I could see beyond that, and am in process of cleaning it up. Immediately cleaned the internals to test it out and it is sweet

It must have a replacement (blue) foot control, and I'm unsure about the motor (it's black while the machine itself is a green/gray).
What year is the copyright? If the manual isn't too extensive, would you mind please posting it along w a photo of the attachments? It's been most difficult finding anything about this machine, and I am sooo curious!
Thank you!
Jae
02-18-2012, 12:21 PM
Super Member
Join Date: Feb 2012
Posts: 8,091
---
Jae,
Here is my little Greyhound:
Here is the accessory box:
As you can see the motor on this one is also black. The foot controller was a smallish square metal affair and has been replaced as well. When I got to the machine to bring it back to live the wiring was in atrocious shape. Not knowing how it should be wired I managed to short out the controller. So I grabbed the extra one we had here that didn't fit anything else and used that.
The owners manual is 16 pages long and with my dial up and photobucket and all I'd rather make a printed copy and send it to you.
As best as I can tell it was a March of 1927 manual. Here are the numbers on the front: No. 495-3-27-10,000
I'll be back in a few with some more pics for you.
Joe
02-18-2012, 12:40 PM
Junior Member
Join Date: May 2011
Location: New England
Posts: 169
---
Joe,
Your machine is fabulous

)) This is so exciting, thank you sooo much! We've been on a hunt to identify this machine and the only info found to this point had been through the diligence of a lovely woman from a yahoo group who checked out Charles Law's encyclopedia and was able to discover the model # and approx. production dates.
Thank you for posting all of these photos! We love seeing what the machine once looked like! I'll hopefully post photos of ours later today. The only # on the machine is "-3073". Thank you so much, too, for offering to print out the manual. Pls contact me offline for mailing info.
Looking forward to seeing more of your photos

Jae
02-18-2012, 01:16 PM
Super Member
Join Date: Feb 2012
Posts: 8,091
---
Jae,
Here are the other pics:
Attachments:
Front of owners manual:
Needle Comparison:
The top needle is an original Greyhound #1. It has the running Greyhound tradmark picture on it. It is the same size as the class 20x1 needles. Here are two sources for those needles I know of:
http://www.sewingshop.com/singerindu...dles-20x1.aspx
- I haven't done business with these folks yet so I can't give them any feedback.
http://www.annebonnyslocker.com.au/ckp/a.main/index.htm
- Cyndy is in Australia but I've bought from her and she's good people to do business with.
Bobbin comparison: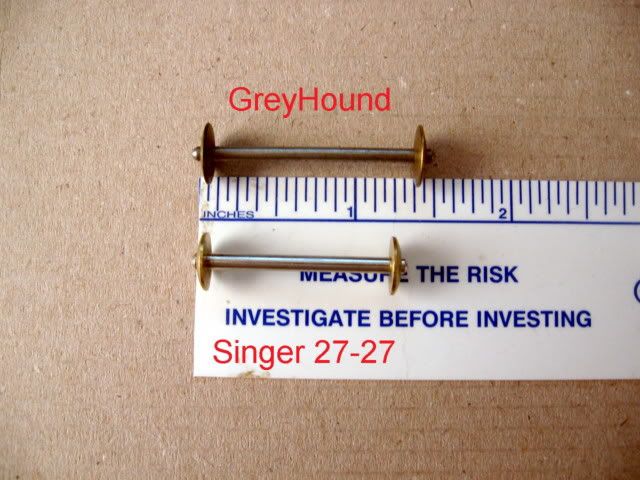 I haven't found a source for the longer bobbins yet. NOTE: The bottom one should read Singer 27-28.
I'll PM you for your mailing address. It will take me a while to scan and print the manuals. They are so very fragile.
As to how this machine came to us ......... I do not know. My wife moved to IL before I did and in the interim it just appeared. It was here when I got here. Been bounced around from the garages to storage lockers back to the garage until a few months ago.
I finally got tired of moving it around and watching it fall apart and brought it inside and worked it over.
Now it works like a little champ.
Joe
---
Last edited by J Miller; 02-18-2012 at

01:20 PM

.
Thread
Thread Starter
Forum
Replies
Last Post
For Vintage & Antique Machine Enthusiasts
For Vintage & Antique Machine Enthusiasts
For Vintage & Antique Machine Enthusiasts
For Vintage & Antique Machine Enthusiasts

Posting Rules
You may not post new threads
You may not post replies
You may not post attachments
You may not edit your posts
---
HTML code is Off
---