Favorite machine in your collection and what would complete it
06-21-2018, 06:23 PM
Senior Member
Join Date: Aug 2012
Posts: 786
---
Thank you Mickey2 for all that information. Singer practically had a monopoly in my area with Kenmore being the other alternative. Never have I seen Phoenix or Adler.

There is a Gritzner made Kenmore 84 (117.841) that requires cams. I need to do some research to see if it does stretch stitches.
06-21-2018, 08:57 PM
Banned
Join Date: Aug 2014
Location: Victorian Sweatshop Forum
Posts: 4,096
---
Originally Posted by
Mickey2
They are far and few between in my area too. I know there are a few early Gritzner models taking double cams and have all metal gears. There is a thread where they track a few close Gritzner and Kayser models and discover some were imported and sold under the White brand. White was eventually sold to a Japanese company, and the earliest models are pretty close to these German ones. These are reported to be all metal, and I also think the Japanese kept to metal gears for a long time, well into the 60s even 70s.

I have seen early Phoenix and a Adler models with double cams, some report they are all metal, but some have a few plastic gears (I have seen the my self). I have yet to come across the all metal machine with double cams. I guess the 1950s were a period where they experimented, and some were unfortunately given "modern" nylon gears. Some Necchi Supernovas have double cams, they are all metal. There's probably a few brands I haven't discovered yet ;- )
Mickey IIRC the Necchi cams are not metal but some have an inner hub that is metal. The later Supernovas and Julias have a plastic or nylon worm gear that is now prone to failure. Not the only delicate part these machines had.
There are two Gritzner/Kaiser made-for-White machines that were sold by Sears under the Kenmore badge.
Cari
06-22-2018, 05:38 AM
Super Member
Join Date: Sep 2015
Posts: 1,963
---
Thanks for the info. I knew the cams were plastic and the cleated belts, but I read some where most Supernovas were all metal. I guess the 1950s were the decade everything turned nylon. I don't see why this was considered an advantage, especially in the best models made to be durable work horses.
Either way, I guess it's back to looking for a Necchi BU mabye with a wonder wheel for me, or another early cast iron zigzagger. I have a few in mind. For practical reasons we have to accept a few plastic gears for the double cams and stretchy stitch functions. It takes too long to track down the few remaining all metal models. I don't mind my Elna Supermatic at all, a few plastic gears, but it runs nicely after the rubber pulley was replaced with a metal one with o-rings. I'm still attaracted to the Supernova for some reason.
I think there is a few early all metal Japanese models with stretchy stitches. I have way too little experience with the good ones among them, a lot of them are reported to be all metal. I understand you are not the only one who have managed to track down a few gems. Half the job is to get to know the machine and its' advantages.
---
Last edited by Mickey2; 06-22-2018 at

05:45 AM

.
06-22-2018, 03:24 PM
Senior Member
Join Date: Oct 2017
Location: Vancouver Island / Arizona
Posts: 458
---
Please tell me what stretchy stitches are. I love my Singer 348, made in 1967 in Turquoise. I also have a Featherweight but have not sewed with her yet and I look forward to finding a treadle when our home reno is done.
06-22-2018, 03:49 PM
Super Member
Join Date: Sep 2015
Posts: 1,963
---
Some sewing machines take double layer cams and the stitch patterns have a automatic reverse movement in the stitching. It allows for more advanced stitch patterns.
Stretchy stitches
generally mean utility patterns that give a seam with a noticeable stretch, more so than regular zigzag and mostly used for jersey knits and fine knits cuffs and similar. The paterns aren't exactly what you get on a serger or cover stitcher (which has two more needles and loopers for their equivalent of "bobbin" thread). These regular machine patterns are good and work very well though.
In addition these cams can give patterns with extra strength, fancy decorative patters, etc. Elna Supermatics had this as early as 1952, and a few other brands quickly followed up with the same feature on their models; Necchi Supernovas, Adler, Gritzner, Kayser. Husqvarna didn't have them until the early 1960s, Singer not until the 1970s. Here's a picture of Singers Flexi cams showing the stitch pattern.
This is Elna cams, the red patterns are double layer.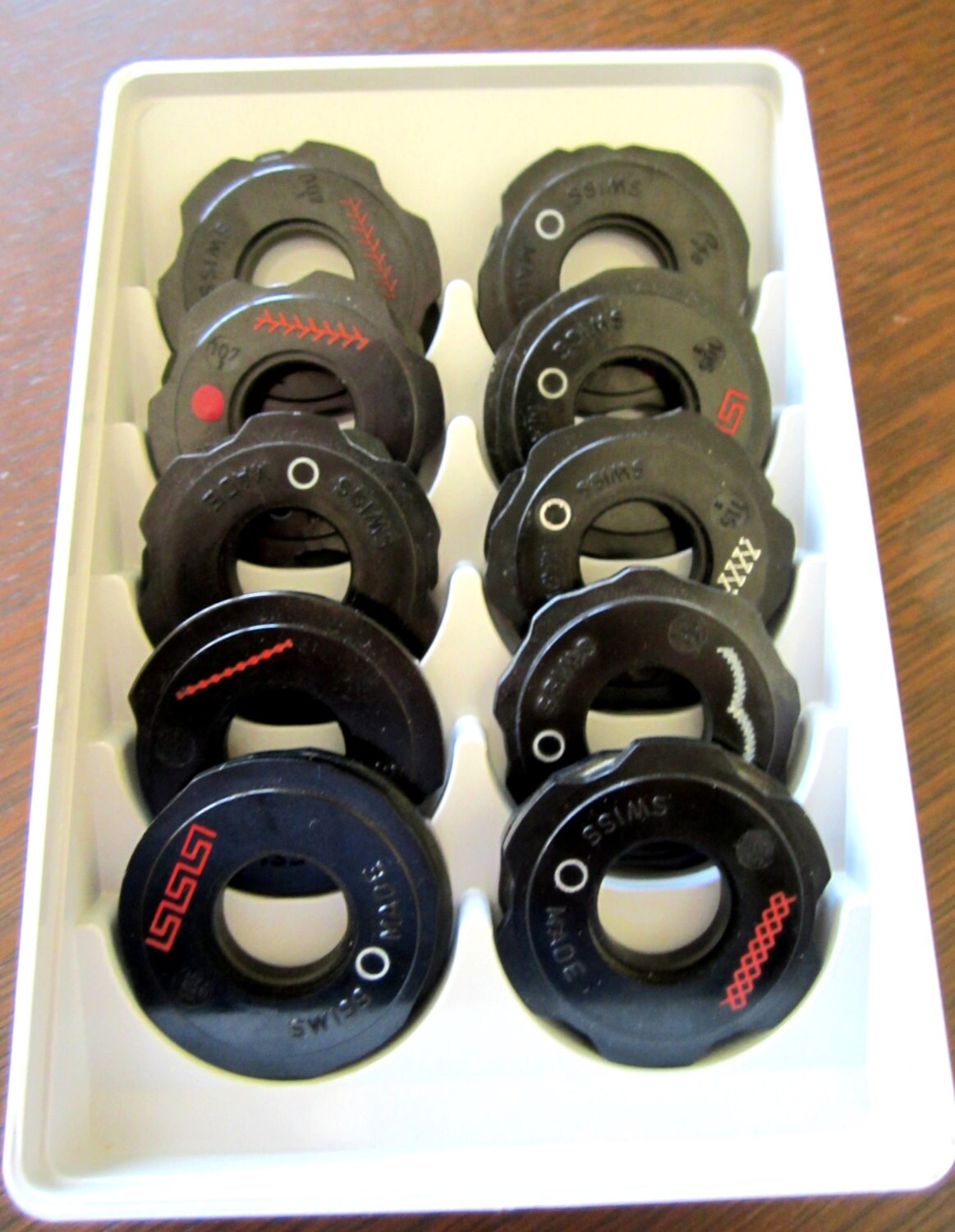 ---
Last edited by Mickey2; 06-22-2018 at

03:57 PM

.
06-22-2018, 06:45 PM
Banned
Join Date: Aug 2014
Location: Victorian Sweatshop Forum
Posts: 4,096
---
Singer started using stretch stitches in 1968. My 1956 and '57 Brother Pacesetters have some built in stretch stitches, but it was several years before Brother used them in another machine.

Cari
06-23-2018, 12:01 PM
Senior Member
Join Date: Feb 2012
Posts: 673
---
Those Pacesetters make everyone jealous!

My favorite is my 1916 Singer 31-15 treadle, AKA "The Tailor's Machine." It has a 16" flywheel which gives excellent control and goes like the wind on the straightaway. No features - nothing but forward stitches; tacking means you have to turn your work around or hold back to make several stitches in one spot. Utterly reliable and forgiving. Will go through several layers of canvas or fine silk without complaint. Domestic machines feel cramped by comparison.

To complete my "collection" (accumulation is probably a better word in my case) I'd like a Pfaff 138 because it has zigzag and reverse.
Thread
Thread Starter
Forum
Replies
Last Post
For Vintage & Antique Machine Enthusiasts
For Vintage & Antique Machine Enthusiasts
For Vintage & Antique Machine Enthusiasts

Posting Rules
You may not post new threads
You may not post replies
You may not post attachments
You may not edit your posts
---
HTML code is Off
---